Passacaglia CD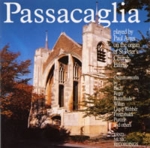 click HERE to place an order (email link)
or call +44/0 20 8632 1854
price: GBP10 (includes UK shipping) or USD20 (includes worldwide shipping)
payment by cheque in pounds sterling, or check in US dollars, or direct bank transfer (bacs/iban)
or via Paypal (GBP10.75 or USD21.25)
Over 70 minutes of ostinato-based organ music, featuring:
Max Reger - Introduction and Passacaglia in D minor
Girolamo Frescobaldi - Partite sopra Passacagli
Richard Arnell, Tim Brooke, Paul Burnell, Gary Carpenter, Michael Finnissy, Robert Godman, Simon Gottschalk, John Hawkins, Robert Hugill, Julian Joseph, Andrew McBirnie, James Mooney-Dutton, Annie Parker, Tim Parkinson, Antony Pitts, Matthew Power, Daryl Runswick, Ian Stephens, Joby Talbot, Len Tubb, Nick White, Guy Woolfenden - Passacaglia on themes of Joanne Johnson
first recording of this tribute piece to the talented British composer, Joanne Johnson, 1969-1997: 22 composers have written one variation each - in performance, any number of variations are played in any order
Andrew Lloyd Webber - Variation 16, from Variations on the A minor Caprice by Niccolo Paganini
first recording of this organ arrangement
Dietrich Buxtehude - Passacaglia in D minor
Henry Purcell - Chaconne in G minor
Nicholas Ansdell-Evans - Passacaglia
first recording
Healey Willan - Introduction and Passacaglia in E flat minor
Dick Koomans - Basso Ostinato
Johann Sebastian Bach - Passacaglia in C minor
"The Buxtehude and Bach pieces are given mature and yet energetic performances, whilst the Lloyd Webber and Koomans have so much vitality and bounce to them that they are quite addictive. On this his debut solo organ disc Paul Ayres shows himself to be a player of the highest calibre..."
Simon Fizgerald, The Organ, August 1998.
"Paul Ayres's attractively constructed programme... His playing is never less than assured..."
Stephen Haylett, BBC Music Magazine November 1998.
"This is an imaginative record, by a fine player on a fine instrument... the playing is splendid!"
Roger Fisher, Organists' Review, November 1998.
"...an interesting programme, well played with great energy"
Church Music Quarterly, January 1999.
"Paul Ayres shows excellent technique and stylistic awareness throughout. a CD exploring the organ and some new music with great enthusiasm and flair."
Basil Ramsey, Music & Vision (daily internet music magazine) May 1999.

recorded at St Peter's Church, Ealing, London 1998
Catalogue number: Fand Music Recordings FAND 102
Organ: 3-manual Bishop & Son, 1895, 1924, 1983